This old house...not so old but dated like an old sweater.
So we moved from our perfect home in Bayview to a home owned by the banks and the IRS. It was filled with furniture and garbage (also rat poo)...yay! I brought my husband and parents through this place and it looked exactly like the "before" pictures, dirty kitchen and all. They were like "no way are we buying this house!!" But I had a vision and saw the layout as a perfect place to raise our family in the 'burbs. Good schools, safe neighborhood, and a large lot. I convinced everyone to get onboard and we did it. It took 6 months to renovate, so luckily we stayed in our current home until the work was finished. It wasn't easy, but it was worth it. Anyone considering the same should dive right in and take on the challenge. It was one of the most rewarding things we've done thus far. Picking every finish and creating a space that works for our family was terrible and amazing at the same time. Here are the before and after pictures along with some great tips for designing your own space…Krysta's Design Tips 101
KITCHEN
1. Start with a neutral color palette on the walls... I generally choose gray/white but beige/white works too. This isn't a forever thing but until you have the right furniture/curtains/rugs/wall decor, you should start with a blank canvas to work on.
KITCHEN NOOK
(and throw pillows, of course)
2. Pick something to collect and display. I collect plates and hang them in my kitchen. It's something small I can look for when I'm traveling or receive as a gift. They are easy to display and switch up if I have more love for one than the other. You can do this with anything (I used to collect owls :)
DINING ROOM
3. Mix cheap and pricier pieces for an eclectic feel. Never buy a complete furniture set off the store floor. It may look nice but it won't have personality. Purchase pieces that bring a smile to your face. Things you love will work together even if you think they won't.
FAMILY ROOM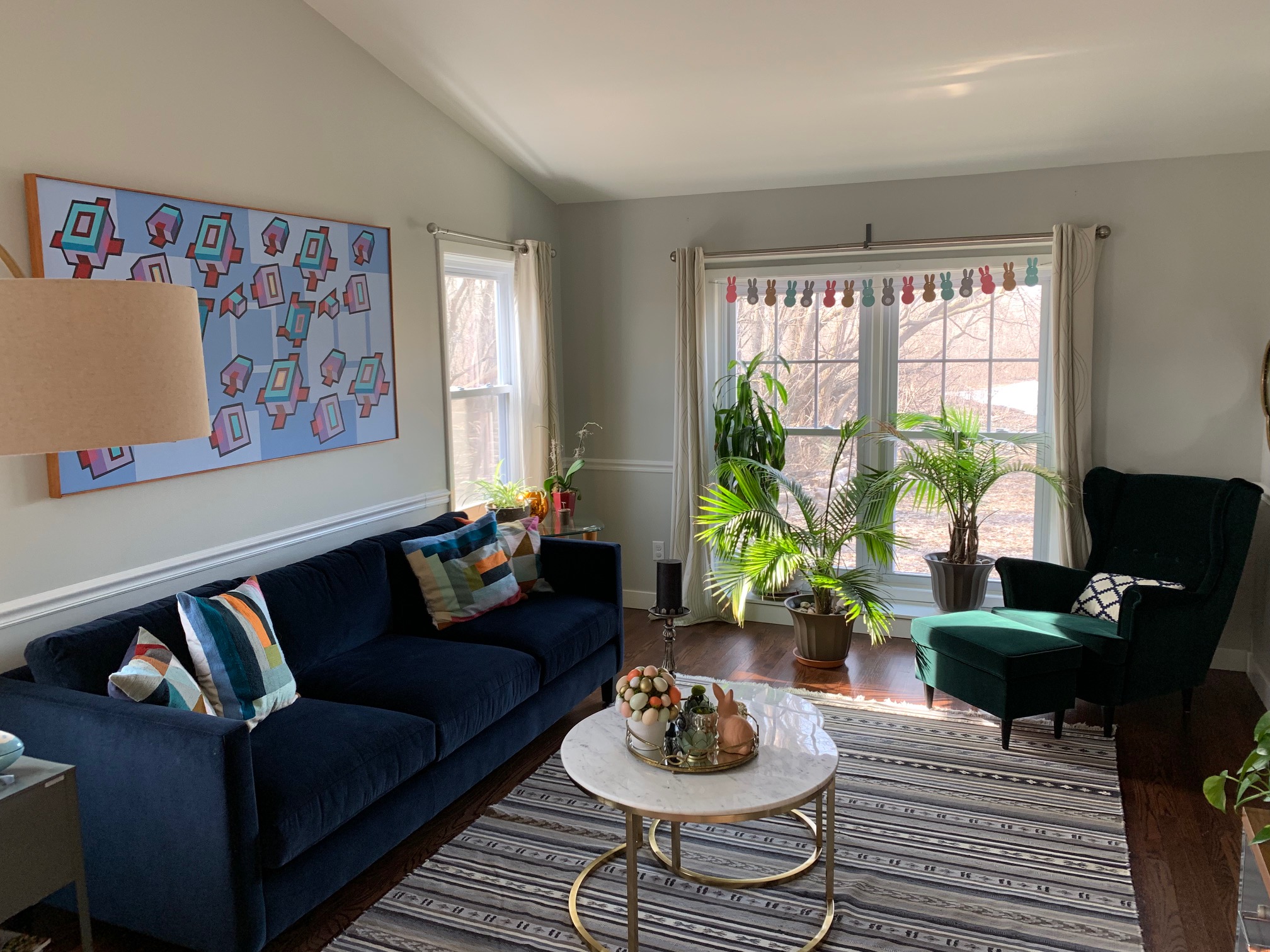 Artwork, plants and throw pillows
(plus Easter decorations)
4. Lighting, plants, and candles are everything to a space. They bring life, smell, and feeling to any space.
LIVING ROOM
5. Choose 2 accent colors to pair with your neutrals...mine are orange and navy. You aren't limited to only 2 but it's a great place to start. You can change them up seasonally if you get bored. Target/Ikea/TJ Maxx are all wonderful places to find accent pieces and throw pillows (my best friends:).
MASTER BEDROOM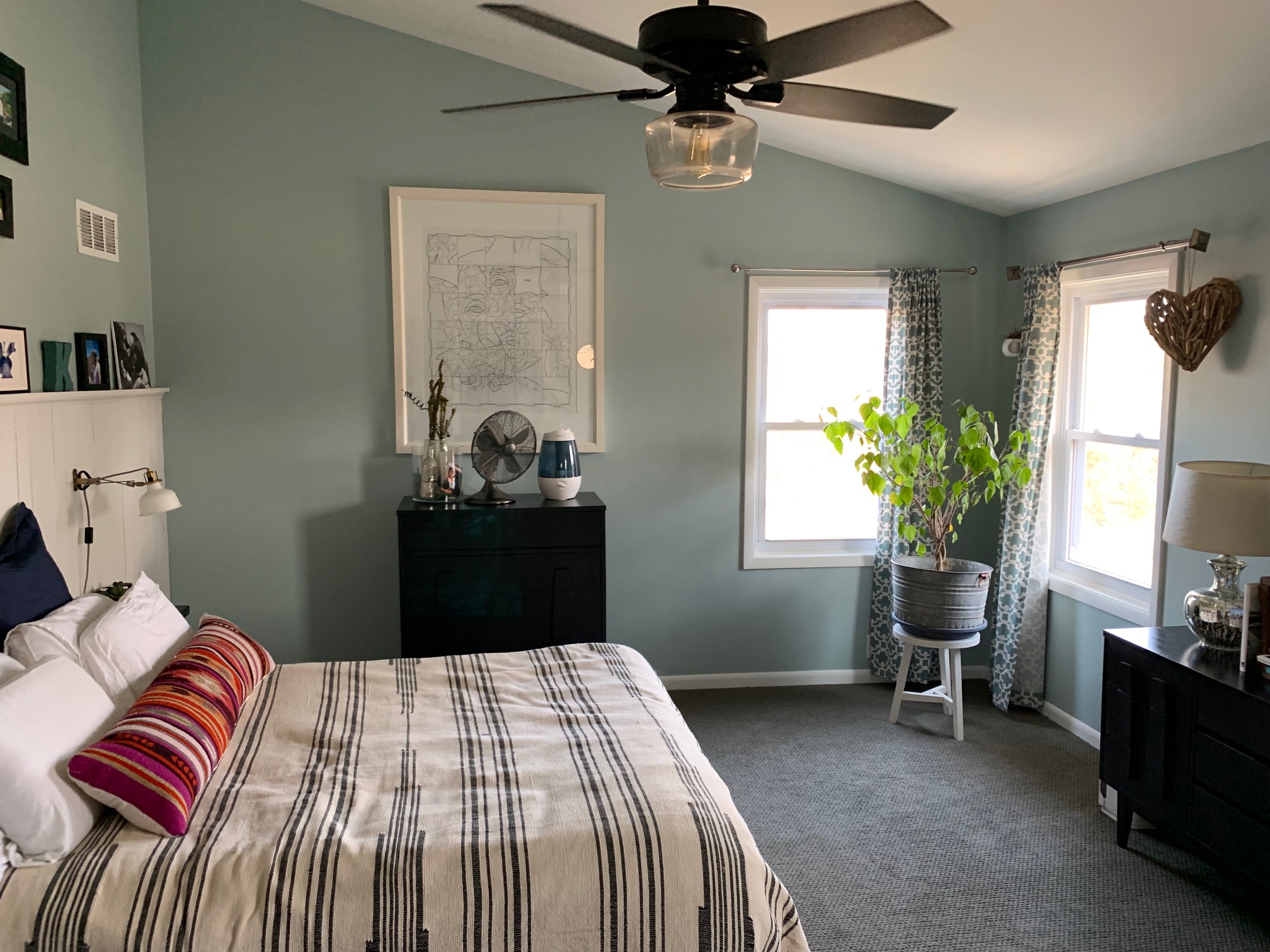 <— family photos on ledge above bed
6. Have a special spot for family pictures and keep them together in a few areas not all over the entire home. Best to have some more artistic pieces, mirrors, nature, and different textures mixed in. Gallery walls with a nice blend of all of these items are lovely when done well.
LAUNDRY ROOM
7. Have fun with it and don't be afraid of change. We've been in our new home for almost a year now and we still change things up from time to time. Nothing has to be forever. I'm slowly starting to add color to my walls. I may even wallpaper my powder room.
I love design and helping people with their spaces. My side hobby is moving stuff around at my friends' houses. In fact, I'll be out in NYC next week helping a friend with her new home. It really does bring me so much joy. Happy decorating!!
(ps. I'll put all the photos in the gallery because there are some more I couldn't fit here - Rex and Ruby's bedroom, our finished basement, etc.)